It was with heavy hearts that we had to say "A bientôt" to our new home today as we have to head back to the UK tomorrow. We'll be counting the days until we're back to bring our home to life.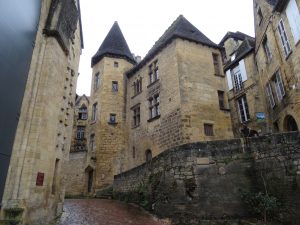 To help us through the day we decided to visit Salat-la-Canéda. A medieval town and very popular tourist destination it was pretty deserted; out of season and pouring with rain.
Did I mention that the sun forsook us today and it rained heavily for most of the day with temperatures a much more season 12 to 13°C.
Still we managed a lovely lunch at the traditional cuisine restaurant "Le Clos du Périgord" of entrecôte and confit de canard. Very tasty. This was followed by a very brief sightseeing tour in the increasingly heavy rain. So here's a couple of hastily taken shots. We must get back here in the summer to do it full justice.